Por Delfi_r el martes, 19 de Diciembre de 2006, 00:00 – Slot y Sport Auto – Enlace permanente
¿Qué tienen en común estos coches?
A Next Milestone For Carrozzeria Touring Superleggera
Milano / Cernobbio, April 21st., 2006

One of the most famous Italian automotive design companies and special
bodywork manufacturers enters a next phase. In the year of its 80th.
Anniversary, Carrozzeria Touring Supperleggera of Milan is all set for a
significant new launch of its specialist services and concepts for the
special product niche of the international car market.

Founded by Felice Bianchi Anderloni and Gaetano Ponzoni in 1926, the
company started to produce custom built automotive bodywork with a
distinctive feature form the very beginning: lightness.

Early customers were reputed car makers as Isotta Fraschini and Alfa
Romeo. It would mark the start of a flamboyant period, also culminating in
the 'Flying Star' period with several spectacular spyder coachworks.

Touring Superleggera also gradually researched the streamlining process.
The marriage between this, and their Superleggera construction system using
aluminium body panels over a light but rigid tubular steel frame, resulted
in some extremely elegant masterpieces such as the 1938 Alfa Romeo 8C2900
Touring spyder, which today have become icons of automotive design and body
construction.

In 1945, the excellent Carlo Felice Bianchi Anderloni joined his father
at the company, which soon started to receive its first orders from a
motivated Modenese entrepreneur called Enzo Ferrari. The tipo 166 Touring
'Barchetta' of 1950 formed a new milestone for light, elegant and effective
design on a competition chassis.


Under Carlo Felice, Touring saw its industrial customer basis grow in
the mainstream of the expanding automotive industry in Italy and Europe. A
number of niche models were designed and built on Alfa Romeo 1900,
Lancia Flaminia and Maserati 3500. Another new inspired car manufacturer
from the Bologna area relied on Touring's skills: Lamborghini. At the same
time, Aston Martin produced their DB4, 5 and 6 models with a license for
the Superleggera system.

The energy crises of the early seventies, and the increasing mass
production methods in the car industry would regretfully force many
specialist companies to close their doors. The last production car left
Carrozzeria Touring in 1966, but the true Touring spirit was firmly
consolidated in the company's products, that found their ways to an
international community of motoring enthusiasts and car collectors.

Carrozzeria Marazzi of Caronno Pertusella continued the production for
Lamborghini, and would become the entrusted keepers of the Touring
Superleggera brand. Until his retirement, Carlo Felice Bianchi Anderloni
dedicated his talents to Alfa Romeo as head of their design department, but
he also would continue to care for Touring's heritage with unequalled
energy until the very last days of his inspired life, which regretfully
ended on Aug. 7,2003.

On April 21st ., 2006 the exclusive rights for the Touring Superleggera
brand were acquired by the international Zeta Europe BV group, a company
with several subsidiary companies in the Milano area such as Carrozzeria
Granturismo near Arese, and Ruote Borrani in Rozzano.

The new targets for Carrozzeria Touring are ambitious and well-aimed: a
high-quality and professional Milano-based service center for the special
product niche in the international car industry. Sectors: automotive
design, models, concept cars, and small-volume production of special vehicles.

"I had the pleasure and privilege to meet Carlo Felice Bianchi Anderloni
on several occasions, and admired his inspiring interest and open mind for
even very modern design concepts. He always liked to discuss the concept of
a 'modern day Touring' " says Zeta Europe's CEO Paul V.J.Koot.

"Touring Superleggera represents a precious new venture, which we are
very proud to add to our corporate portfolio. But we thoroughly realize the
significant tasks and responsibilities that lay behind this takeover.
Touring has a long, rich and versatile heritage that requires very
well-thought and balanced steps to grow further in the complex context of
the automotive environment of the 21st. century"

"We are building a compact, dynamic team of competent young professionals.

Our pilot projects will include partial style studies (known as the traditional Elaborazione), as well as spectacular, totally new projects. We will focus on turn key projects. We want to see avant-garde design and new Touring bodies, not only virtual or on shows, but also on the road. And although today, we live in a global village, Touring Superleggera's future models will continue to share their most important DNA with their famous ancestors: Italy, and design with original Italian inspiration. For me this is crucial, and we have a motivated and inspired Italian partner in this venture to safeguard this fidelity to the roots of Touring Superleggera"
Algunos están en slot:
MMK 1938 Alfa Romeo 2900 B Speciale «Le Mans» s/n 412033
MMK Alfa Romeo 6c 2300 MM
Top Slot 166 MM Touring Berlinetta LM s/n 0060M
MMK Ferrari 625 LM
Slot Classic Pegaso Z 102 BS Competition Spider (Carrozzeria Touring) 1953; Ilka Seekamp (D)
Carrera Aston Martin DB4
¿han corrido todos en Le Mans??
NO, el 6C 2300 fue vencedor en su categoría en la Mille Migila, el Pegaso lo intentó, el Aston Martin, no.
Por otra parte, ¿están carrozados en aluminiio??
Eso significa 'superleggera'
Éste acaba de ponerse a la venta: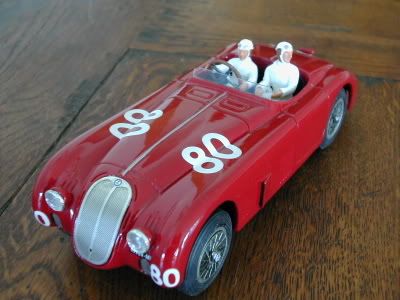 Y otro reciente, también Touring y también en slot: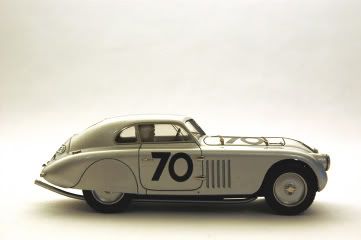 Ambos disputaron la Mille Miglia de 1940
En Wikipedia
Superleggera
Superleggera, also called tube-frame, is an automobile construction technology used in classic sports cars in the middle of the 20th Century. The name means «super light» in Italian, and was coined in 1937 by the Italian coachbuilder, Touring. Unlike the monocoque and body-on-frame methods widely adopted by the 1950s, superleggera cars use a network of thin metal tubes as a full-body frame. These are then covered with metal body panels, often made of exotic lightweight materials like . This construction technique is no longer used in production cars today, but is still found in low-volume and hand-built sports models.
He usado el traductor babylon de ésta página, y por lo poco que he leido son carrocerías hechas con tubos y paneles de materiales ligeros como aluminio o magnesio.
Esa técnica fué patentada por la firma Touring que adoptó el nombre italiano Carrozeria Touring Superleggera por el que fué conocida. Del tipo Superleggera, Tube Frame y Birdcage fueron todas las carrocerías hasta el desarrollo de la moderna carrocería autoportante. Desarrollada en la epoca de la aerodinámica (los años 30) marcó el definitivo triunfo de los carroceros italianos sobre los franceses (aparte cuestiones fiscales que también influyeron)